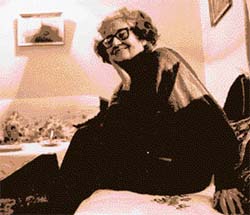 Urdu literature's luminary writer Quratulain Hyder — who jostled for
creative space with the language's other grand dame Ismat Chughtai — passed away at her Noida home early Tuesday morning . She was 81.

...

Born in 1927, this Jnanpith awardee was one of India's most prolific pens —
both in Urdu and English. She won Sahitya Akademi Award for her collection of short stories

Patjhar ki Awaz

(

The Sound of Falling Leaves

) in 1968. She won the Padmashree and Ghalib awards in 1984. The Urdu Academy in Delhi conferred upon her the Bahadur Shah Zafar Award in 2000.